JUSTICE FOR GEORGE FLOYD: THE TIPPING POINT?
Main Credits
Producer, Director, Writer, Editor
Dr. Christopher C. Odom, MFA, PhD
Executive Producer
Edward J. Odom, IV
Director of Photography
Daniel Kutnink
JUSTICE FOR GEORGE FLOYD: THE TIPPING POINT?
Cast
Dr. Catherine R. Squires
Dr. Danielle K. Brown
Marquise Bowie
Cadex Herrera
Christopher E. Harrison
Wanja Kuria
KingDemetrius Pendleton
Bridgette Stewart
Dr. Christopher C. Odom, MFA, PhD
JUSTICE FOR GEORGE FLOYD: THE TIPPING POINT?
Video Footage
Police footage released of unarmed Black man shot in bed l GMA
ABC News, YouTube
Video shows hail of police gunfire kill Black man
Associated Press, YouTube
Outrage after Akron police shoot unarmed Black man more than 60 times
CBS Evening News, YouTube
"I can't breathe!": Minneapolis man dies after police confrontation
CBS News, YouTube
George Floyd's brother urges crowd for peaceful protest
CNN, YouTube
January 6 committee plays never-before-seen video footage of riot
CNN, YouTube
Van Jones: US Capitol riot is treason and rebellion. Period.
CNN, YouTube
Watch jury's verdict at Derek Chauvin's trial
CNN, YouTube
Memphis police disband 'SCORPION' unit after Tyre Nichols beating | DW News
DW News, YouTube
Barack Obama's final speech as president – video highlights
Guardian News, YouTube
Oversight group finds Seattle officer didn't mean to pepper spray child at protest
KING 5 Seattle, YouTube
Video shows Minneapolis cop with knee on neck of black man who later died | New York Post
New York Post, YouTube
Woman Who Captured George Floyd Killing Returns To Scene | NowThis
NowThis News, YouTube
Footage of Cop Fatally Shooting Unarmed Man in Louisiana Released
The Young Turks, YouTube
Wilson Library West Bank at University of Minnesota Twin Cities, Minneapolis
Tony Webster, Wikimedia Commons
Bodycam video released shows acquitted North Texas ex-cop shooting unarmed Black man
WFAA, YouTube
JUSTICE FOR GEORGE FLOYD: THE TIPPING POINT?
Still Photography
Bull Connor used fire hoses, police dogs on protestors (May 3, 1963)
AL.com
In this Sept. 3, 1955, file photo, mourners pass Emmett Till's casket in Chicago
AP
Historical photograph of slaves
Areo Magazine
Silent visits are made to an organic memorial featuring a mural of George Floyd near the spot where he died while in police custody
Bebeto Mathews, AP
Artist Cadex Herrera works on the La Cultura Cura mural in his White Bear Lake, Minn. backyard studio on Monday
Ben Hovland, MPR News
National Guard troops lined Beale Street during a protest on March 29,1968
Bettmman Collection, Getty Images
A 17-year-old Civil Rights demonstrator is attacked by a police dog in Birmingham, Ala., on May 3, 1963
Bill Hudson, Associated Press
The construction of Interstate 94 tore a hole through Rondo, St. Paul's historic black neighborhood
Brian Peterson, Star Tribune
A medic protester pours water on a woman's face after police started firing tear gas and rubber bullets on May 30 in Minneapolis during a demonstration calling for justice for George Floyd
Chandan Khanna, AFP, Getty Images
Mamie Till Mobley at her son's funeral on Sept. 6, 1955, in Chicago
Chicago Sun Times, Associated Press
Pallbearers carried the casket of Emmett Till through a large crowd gathered outside Roberts Temple Church of God in Christ in Chicago on Sept. 6, 1955
Chicago Sun Times, Associated Press
Christopher E. Harrison Artwork
Christophereharrisonartist, Instagram
Former Minneapolis police officer Derek Chauvin listens as opening arguments commence in his trial for second-degree murder, third-degree murder and second-degree manslaughter in the death of George Floyd in Minneapolis, Minnesota, U.S. March 29, 2021 in a still image from video
CNBC, Reuters
The "Longfellow Boom" seems to only happen at night and in the summer months
Eric Roper, Star Tribune
Chicago Defender
Flickr
A Black Lives Matter mural on Plymouth Avenue in Minneapolis
Georgia Fort
Christopher E. Harrison Artwork
Harrisonartstudio.net
Part owner and general manager of the Chicago Defender
Jack Delano
Agape Movement aims to change hearts in south Minneapolis
Jerry Holt, Star Tribune
MNMMB: $17.5B surplus forecasted for next biennium
KEYC
KingDemetrius Pendleton Photography
kingdemetriuspendleton.smugmug.com
Wanja Kuria
Longellow Nokomis Messenger
Lenny Gaiter (left) started coming to WalkGood LA yoga classes when they started two years ago, after he learned it was part of a local racial equity movement
Megan Jamerson, KCRW
Minneapolis for Community Control of Police is…
mpls4ccp.square.site
Defender's Layout Department
Robert Abbott Sengstacke, Archive Photos, Getty Images
Cadex Herrera in front of the mural he created after the George Floyd uprising
Sara Abdelaal
March on Washington
Underwood Archives, Getty Images
JUSTICE FOR GEORGE FLOYD: THE TIPPING POINT?
Video Stock Footage
Aerialworksusa.com, Storyblocks
BlackBoxGuild, Pond5,Videvo
CactusVP, Storyblocks
Christopher Weber, Pexels
Cottonbros Studio, Pexels
Dan Jeperson, Storyblocks
Duca Imagens, Pexels
F-Stock, Shutterstock
Guillaumelynn, Storyblocks
HalfPoint, Storyblocks
Joseph Eulo, Pexels
JRVisuals, Storyblocks
Jumpstory
Kellymlacy, Pexels
Luis Quintero, Pexels
Mariom, Storyblocks
Matheus Bertelli, Pexels
Nicole Glass Photography, Shutterstock
OneO2, Storyblocks
Orlowski Designs LLC, Shutterstock
PepN Stock Footage, Storyblocks
Raw Media Network, Storyblocks
RedCupStudio, Storyblocks
Retrofootage, Pond5
Rick Ray, Pexels, Shutterstock, Videvo
Seventyfourimages, Storyblocks
Skywardkick_Exclusive, Pond5
Stockbusters, Storyblocks
Storyblocks
Videvo
Volvacheva52, Storyblocks
Wavebreak Media, Storyblocks
JUSTICE FOR GEORGE FLOYD: THE TIPPING POINT?
Music
Gospel Choir
Antracto, AudioJungle
Sentimental Documentary
Cleanmeindsounds, AudioJungle
Documentary Trailer
ColorFilmMusic, AudioJungle
Documentary in Memory, Documentary Intrigue to Uplifting, Heartfelt Emotional Story Documentary, Sensitive Heartfelt Story Documentary, The World is Crashing Documentary
EpicCinematicStudios, AudioJungle
Dark News Report
NickMossRogersMusic, AudioJungle
Dark Ambient Pulse, Documentary Suspense
ReformeSound, AudioJungle
Blues County Roads Solo Harmonica
Sasha Markovic, zozemusic, ASCAP, AudioJungle
Documentaries, Suspense Film, Suspense Tension
ZBSBrothers, AudioJungle
JUSTICE FOR GEORGE FLOYD: THE TIPPING POINT?
Sound Effects
Adobe Systems Incorporated
Applehillstuidos, AudioJungle
AVE-Music, AudioJungle
Collanderson, AudioJungle
FascinatedSound, AudioJungle
Mellau, AudioJungle
MedusaMusicLab, AudioJungle
Sounddogs, AudioJungle
SpaceLabStudio, AudioJungle
Storyblocks
JUSTICE FOR GEORGE FLOYD: THE TIPPING POINT?
Locations
Essential Minneapolis Creative Studio With Lighting Included
Connor A., Peerspace
George Floyd Square
North Loop Minneapolis
Kitty O.
Wing Young Huie Photography Gallery
JUSTICE FOR GEORGE FLOYD: THE TIPPING POINT?
Special Thanks
Hiroko Saito
Koji Rivera
Dr. Blake Scott
Dr. Barry Mauer
Dr. Scot French
Dr. Erica Rodriguez Kight
Dr. Anastasia Salter
Dr. Mel Stanfill
JUSTICE FOR GEORGE FLOYD: THE TIPPING POINT?
Produced in partial fulfillment of the requirements
for the degree of Doctor of Philosophy
in Texts and Technology
in the College of Arts and Humanities
at the University of Central Florida
Orlando, Florida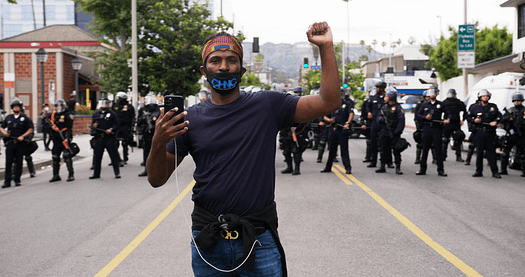 GET NEWS & UPDATES